12 Ingenious Ideas to Store and Organize Your Handbags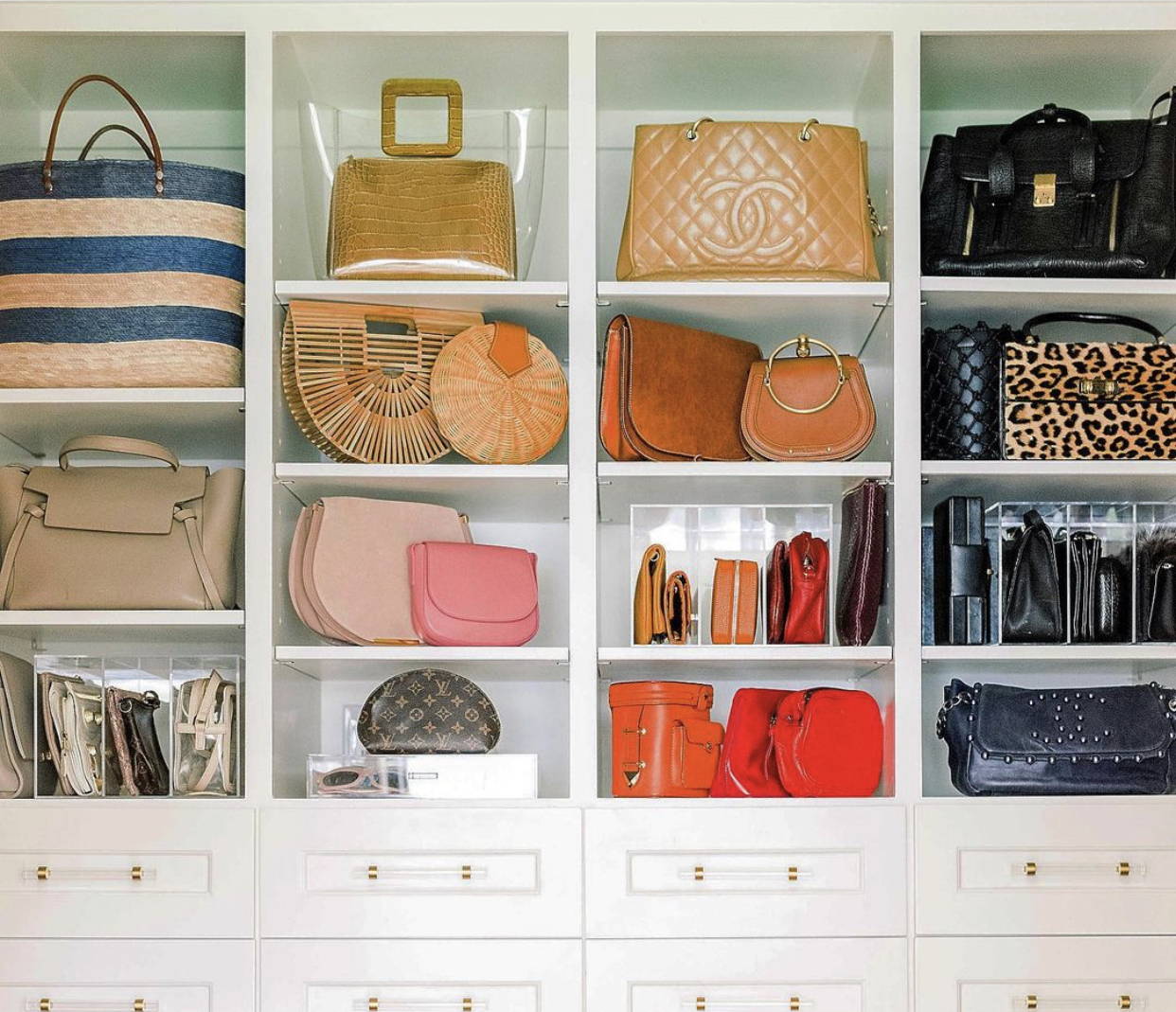 A key part to keeping your vegan leather handbags in good condition is storing it properly. No matter how big or small your collection is, it is incredibly important to keep your handbags organized so that you can get the longest wear from them. Leaving handbags piled upon one another, on the floor, cramped in a box or set of drawers, can definitely cause unnecessary harm. If you're feeling overwhelmed with too little space or just have run out of ideas don't worry.
Getting creative with our spaces, luckily, is the fun part. From shelving units, to decorative hooks, there are so many ways to organize and protect your handbags while still looking chic. For your inspiration, we've rounded up 15 of our favorite ideas:
1) The Classic, MERSI Dust Bag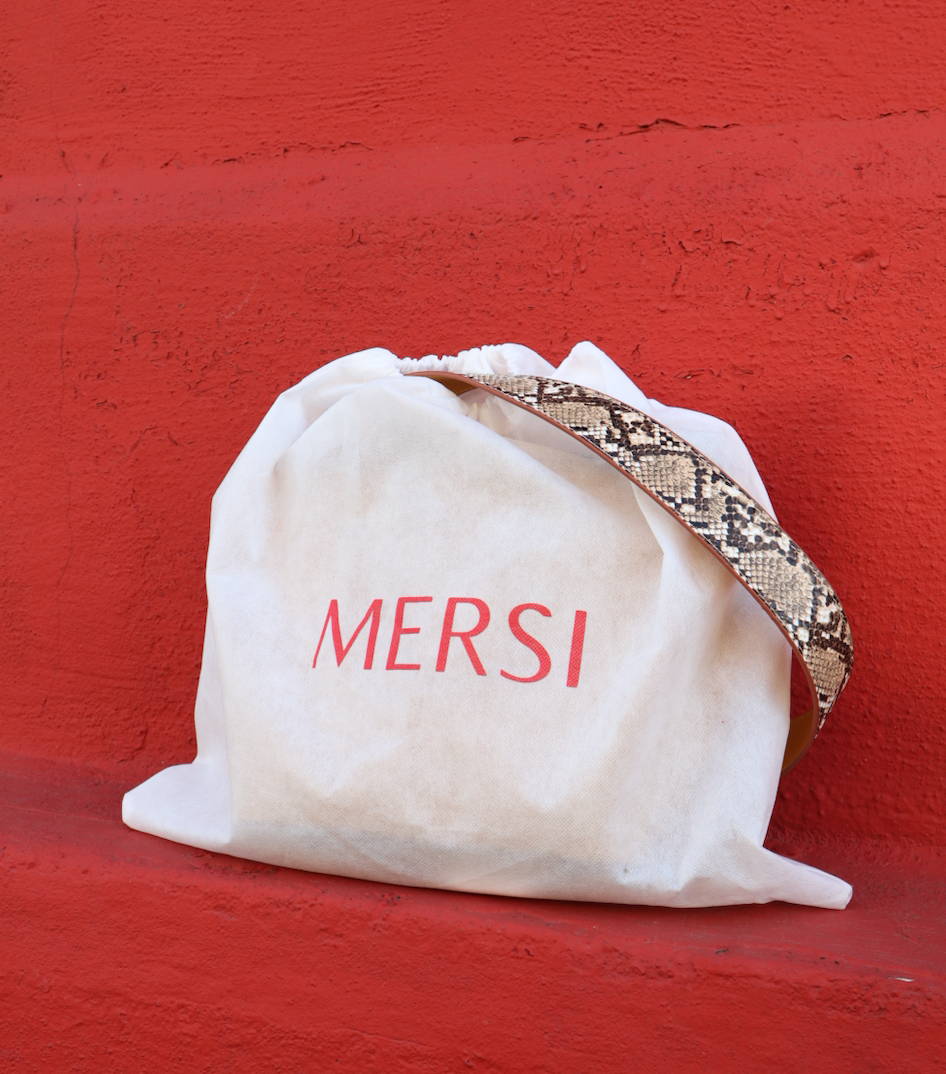 A soft, drawstring bag made to protect your handbag? It seems like a no-brainer to store your vegan leather handbags in their individual MERSI dust bags. A proper and well made dust bag will hold your handbag in place wherever you choose to store them, while protecting from dirt, dust, and opportunities to be scratched. If you're planning to store away your handbags, we recommend this being the first step regardless of where you're keeping them. Plus, it makes traveling with your handbag super easy and efficient.
2) Dedicate A Shelf Space Just For Your Handbags
If you are blessed with a closet that has the storage space of a high top shelf, you may want to use this functional piece for lining up your handbags. How you choose to order them is entirely up to you and what works best for your lifestyle. We'd recommend ordering either from smallest to largest, or in order to the handbags you wear most commonly to the more rarer pieces. If you're into aesthetics, you can also arrange your bags in color coordinated order, like a rainbow! Regardless of how you end up organizing, this will definitely keep your closet space tidy and handbags protected.
3) Try Shelf Dividers For Smaller Handbags and Wallets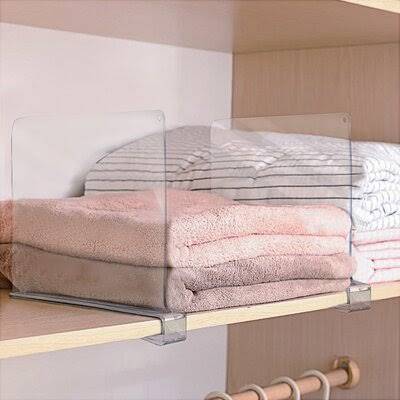 Shelf dividers such as magazine racks or office shelf dividers are an easy and affordable option for storing your handbags. This option is perfect for organizing your smaller accessories such as wallets, clutches or even micro-crossbodies. Stack them vertically to the holder, but make sure to leave a little breathing room. Still, keeping them in these structures will allow for the leather to stay sturdy and keep its original shape.
We'd recommend: Palaset Clear Magazine Holder from The Container Store, or Acrylic Plastic Shelf Dividers from Wayfair (for larger handbags).
4) Revamp a Bookshelf For Display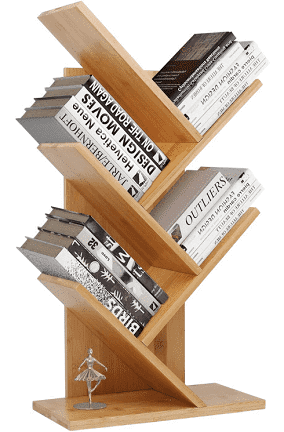 Whether you have an old bookshelf collecting dust, you want to look for a secondhand one, or buy one from IKEA, a bookshelf is a great solution for extra storage space. By placing this in your closet, you can achieve the "built-in shelving" feel for half of the price. Definitely stuff your handbags lightly with tissue paper or a scarf to keep their shape and from any "sagging."
We'd Recommend: Bamboo 4 Tier Bookshelf Plant Stand from Walmart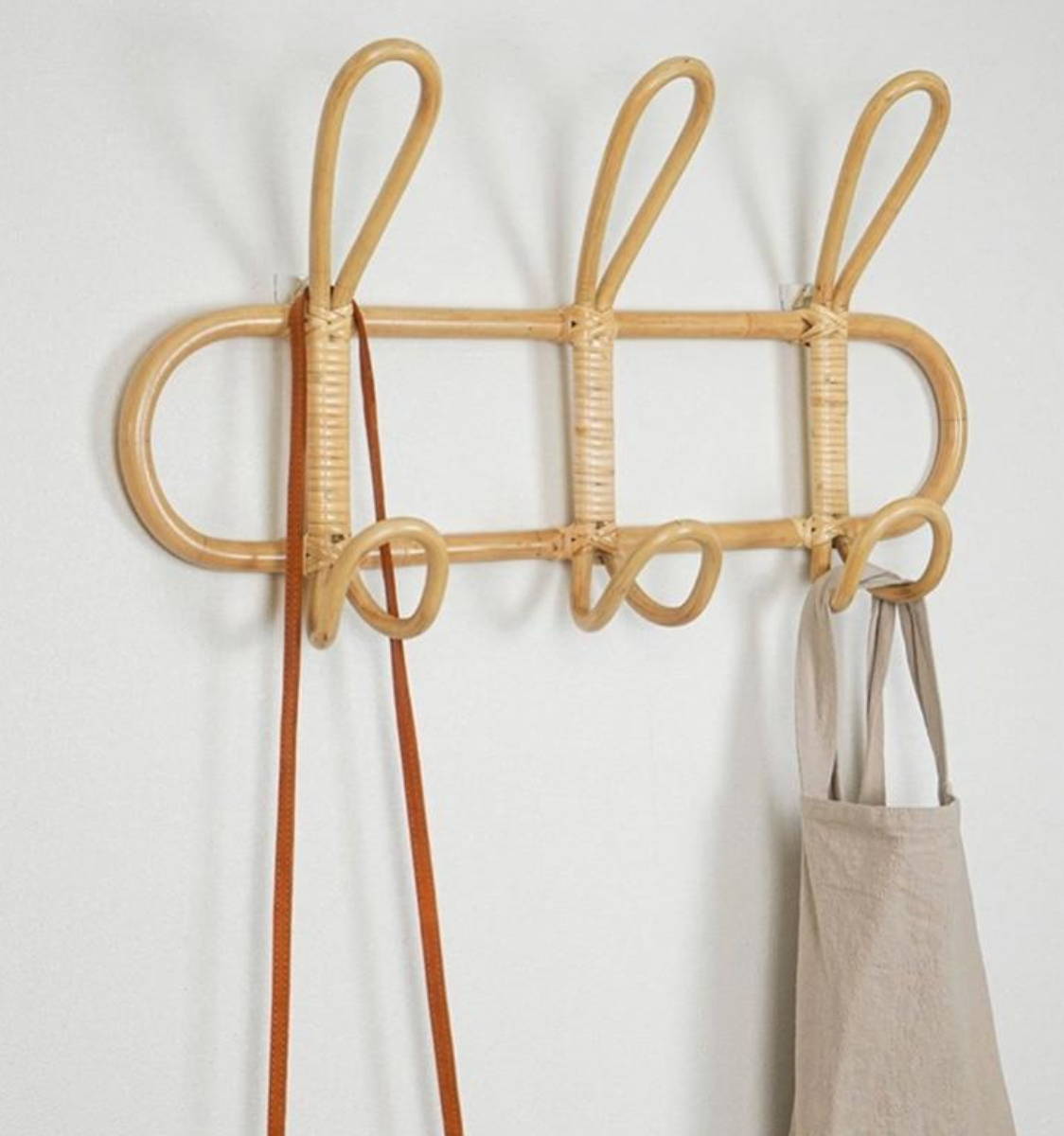 If you're tight on closet space, hanging your handbags via decorative hooks can be an ornate and efficient way to organize. All you'll need (depending on your volume of bags) are three to four hooks, so you can hang one to two at a time! Make sure to empty out your handbags each time if you are going to use this method. You do not want to overload the hooks, or cause unnecessary wear on the straps of the bag. Keep it simple with classic and modern metal hooks, or choose something funky or bold to fit your space!
We'd Recommend: Rattan Wall Hooks by Opalhouse from Target
6) Make Space For Under-The Bed Storage
Foldable cubes, or large under the bed storage are another option when dealing with limited room space. We'd recommend storing your handbags in a dust bag with this storage method for an additional layer of protection. In addition, it is a good idea to look for a bin lined with fabric to keep the storage extra soft and protected. With these bins, we would recommend the divide and conquer method, getting meticulous with organizing by style so you know exactly where to go when looking for a specific piece.
We'd Recommend: Underbed Fabric Bin from Target
7) Use Over The Door Wire Hanging Baskets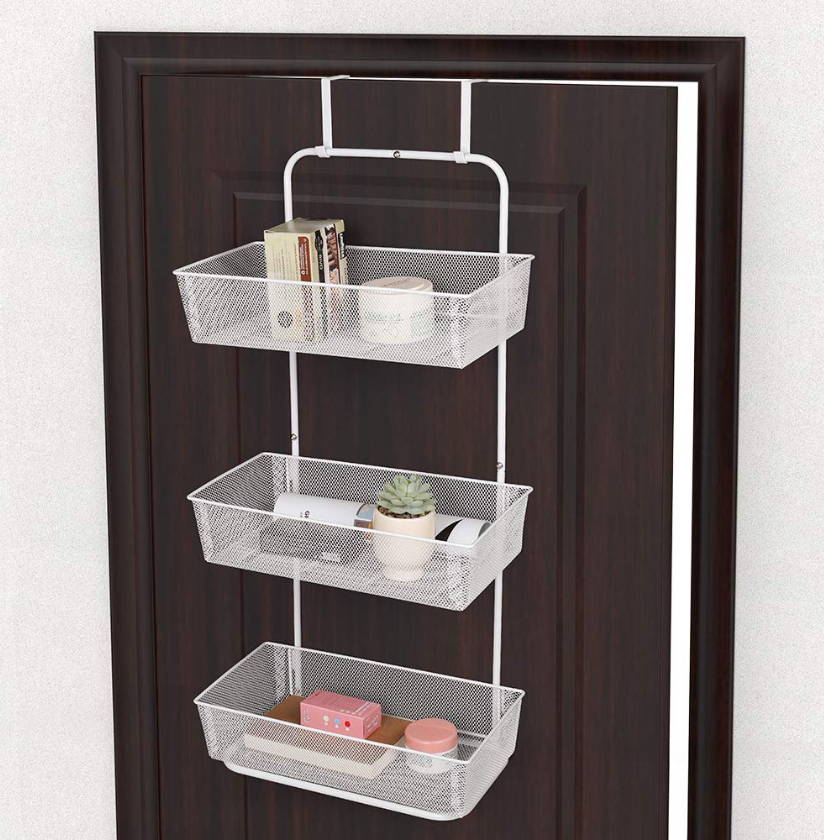 Creating space for more storage, wire hanging baskets are not only functional organizing tools, they also can look aesthetically really cool. Elevate your organization with a golden or bronze wire basket that can hang over the door, creating no damage to your doors!
We Recommend: No-Drilling Over-the-door Hanging Wire Basket from Walmart
8) Opt For Stylized Linen Drawers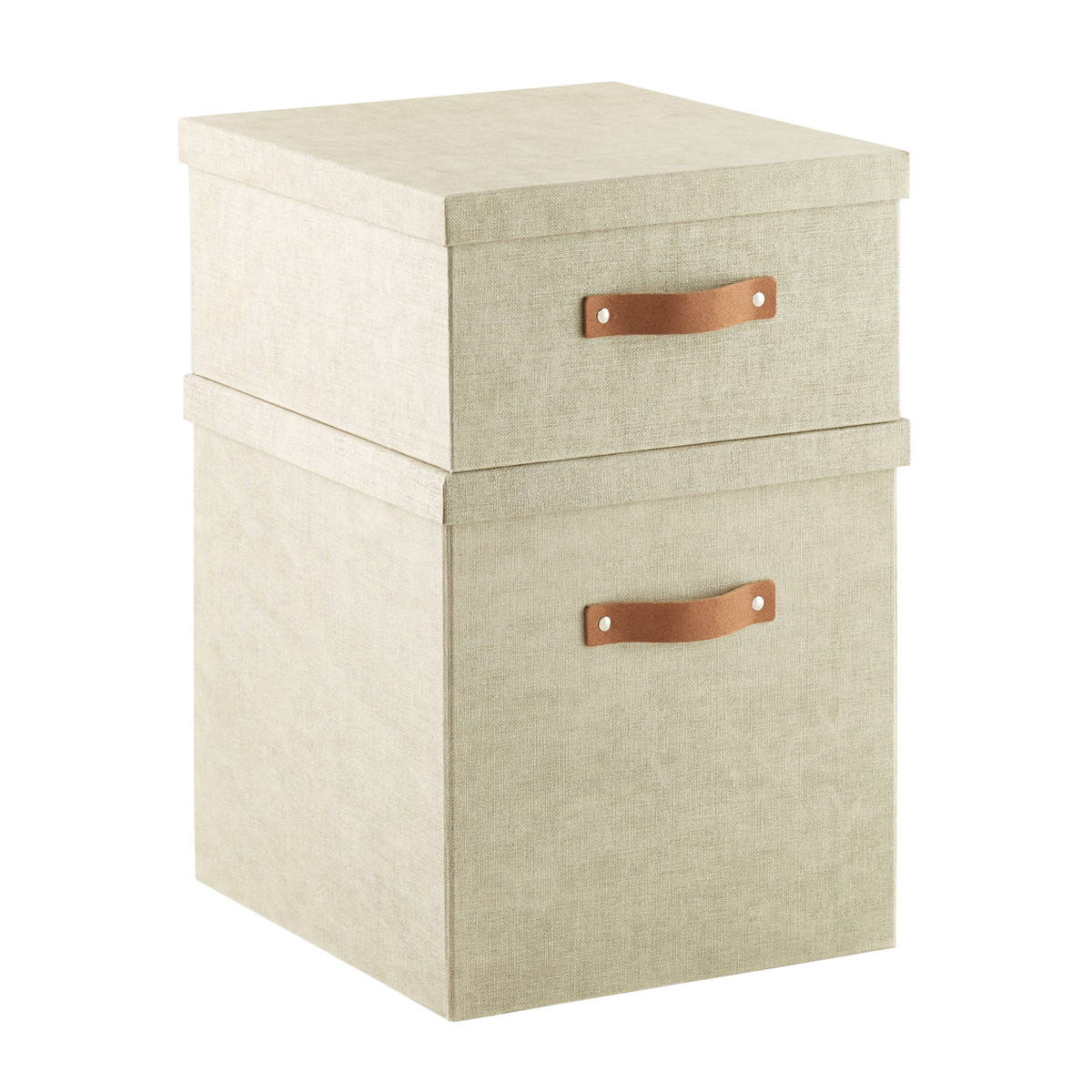 Breathable material, spacious, and can be stored anywhere, linen drawers work well for camouflaging your handbags in a neutral space. Store them at the top or bottom of your closet, under your bed, or somewhere less noticeable yet reachable, and you have an easy pull-out drawer option to try.
We Recommend: Bisgo Linen Marten Storage Cubes from The Container Store
9) Nest Smaller Bags Or Wallets In Large Handbags
A more affordable option that will also allow you to save space in your closet, the idea of storing smaller handbags or accessories is practically ingenious. Taking your larger handbags such as your Isabel Bucket Bag, or Lea Tote, and nesting smaller pieces in them is great because it will help aid in keeping your handbags shape and will take entirely less room in your closet!
10) Use Floating Shelves As Display Pieces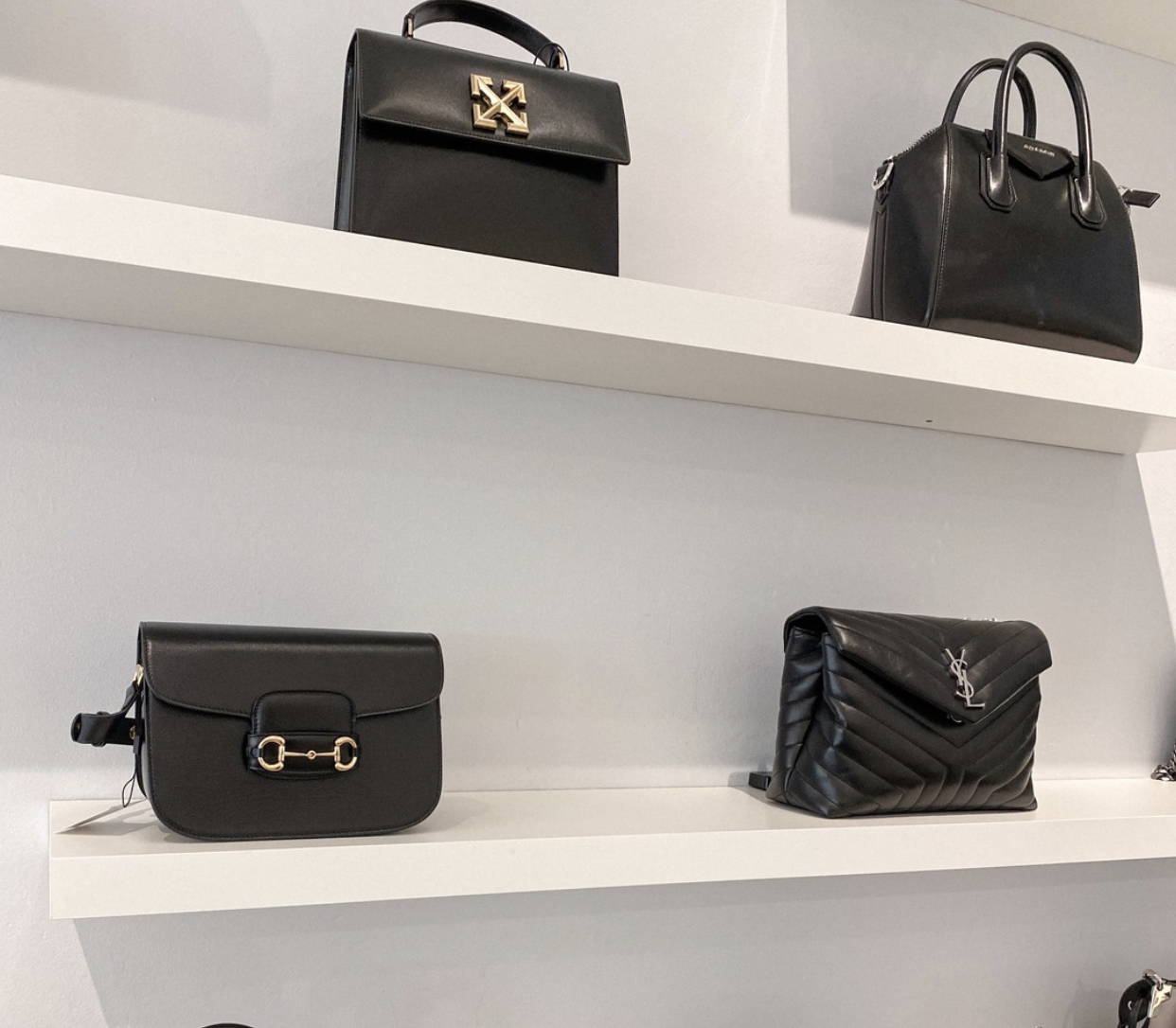 Floating shelves do not need to be just for displaying art or books, they can be a modern take in positioning your handbags. If you want to give your space a lux, "designer store" vibe, floating shelves are definitely the way to do so. Add additional art or any other decor you'd like to the piece.
We'd Recommend: Floating Bamboo Wooden Wall Shelves from Amazon
11) Use Closet Chrome Hooks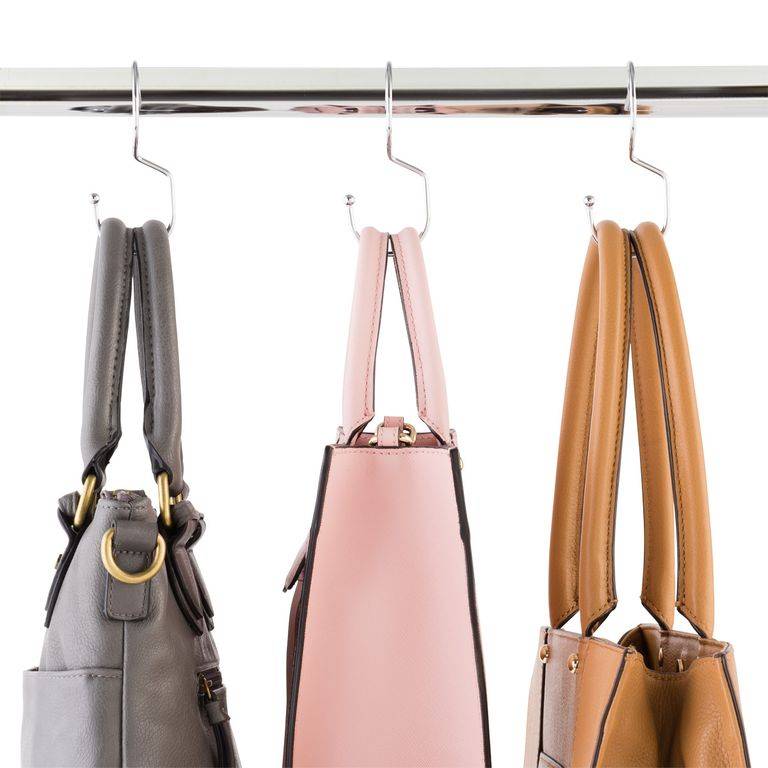 If you do have the additional closet space, whether in your bedroom or hall closet, closet hooks are an ideal option for keeping your handbags in an organized manner. Made specifically for handbags, you can easily space out your handbags on a rack.
We'd Recommend: Chrome Metal Purse Hangers from The Container Store
12) Rolling Clothing Rack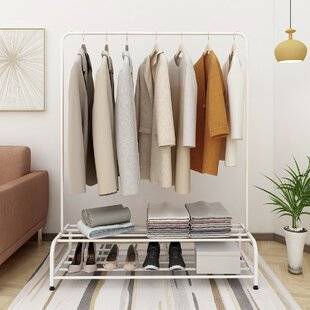 In addition to the closet chrome hooks, a rolling clothing rack is a small apartment/city staple, and they can definitely add an element of style with just a little personalization. This piece is versatile, allowing you to hang your handbags from the rack, or store on the bottom of the cart. This is also perfect for outerwear and shoes, freeing up some space from your closet!
We'd Recommend: Kowalsky Wade Logan Clothing Rack from Wayfair
We've left you with a lot of options to get organized! Regardless of which you may think fits best with your lifestyle, these are all great options to keep your vegan leather handbags in proper condition, and to ensure plenty of wears.
---