For most Latin families the idea of erasing meat and dairy from one's diet is a fairly foreign concept, and once you've reached the decision to make it a lifestyle change, this can seem like a personal punch to your abuelita's heart.
"No more pernil on holidays? Oh there's chorizo in the beans? Tan flaca! But flan doesn't have meat in it, so you must be able to have a slice!"
These are the interactions many Latinx/Hispanic individuals like myself tend to dread, and often hold them back from making the jump to fully transition into veganism. Social customs, emotions, traditions, machismo — these all factor into the complex, yet beautiful identities of a vegan Latinx person.
September 15th to October 15th is Hispanic/Latinx Heritage Month, and we've decided to talk to 6 different Latinx vegans to learn about their experiences with la cultura and veganism.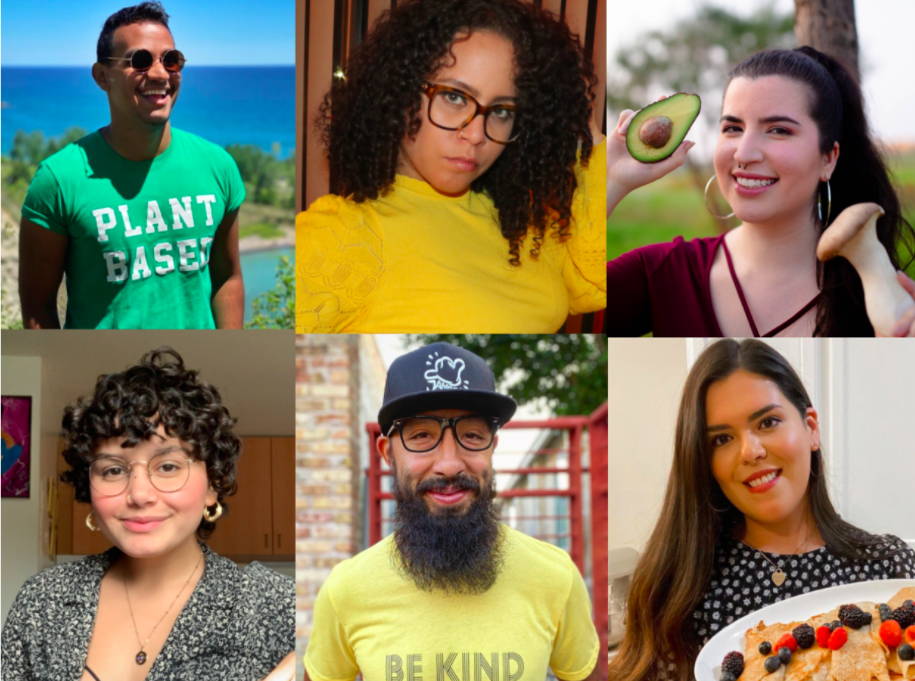 1) Where are you from and what is your ethnicity?
(From Left To Right)
Khaled T., @khator: Venezuelan born and raised, but I'm Venezuelan-Colombian (more than half of my family is Colombian).
Yvonne R., @ricanvegana: I am Puerto Rican and African American.
Carina, @vegansazon: I am Cuban-American and was born in Miami, Florida. My whole family is from Cuba, with a couple being from Mexico and Spain.
Fredy C., @strongtexasbeerd: I'm from Emporia, KS. I'm Mexican-American.
Tora S., :TI'm from the US, but my ethnicity is Puerto Rican.
Jeanette PV., @jeanettepadillavega: I am a first generation American, born in Los Angeles, California and my ethnicity is Mexican.
2) When did you go vegan, and what made you transition to the lifestyle? What was your family (and/or partner, friends) response to the decision?


Carina: My main reason was always because I've loved animals and therefore didn't want to eat them anymore. When I stopped eating meat as a kid, my parents and siblings thought it was a joke and they didn't really care about it, but the rest of my family always had something to say like health advice or life lessons that were uncalled for. As the years went by, my whole family kind of started to understand that this was a lifelong decision for me, so when I went fully vegan there wasn't much of a reaction thankfully.
Fredy: I went vegan more than a year ago. I decided to transition to veganism from being a vegetarian because I wanted to be completely plant based. My family supports my decision and had a lot of questions of why I decided to make the change. After some discussions they understood and became more willing to try vegan food, as well as make sure I have options when I visit.
Jeanette: I went vegan the same week I gave birth to my daughter. That was three and a half years ago. The decision came as I was watching the film Earthlings. My extended family didn't really understand. I got some pushback and remarks about raising my daughter vegan as well. However, my immediate family completely understood. My mother ended up going vegan within a couple weeks of me doing so.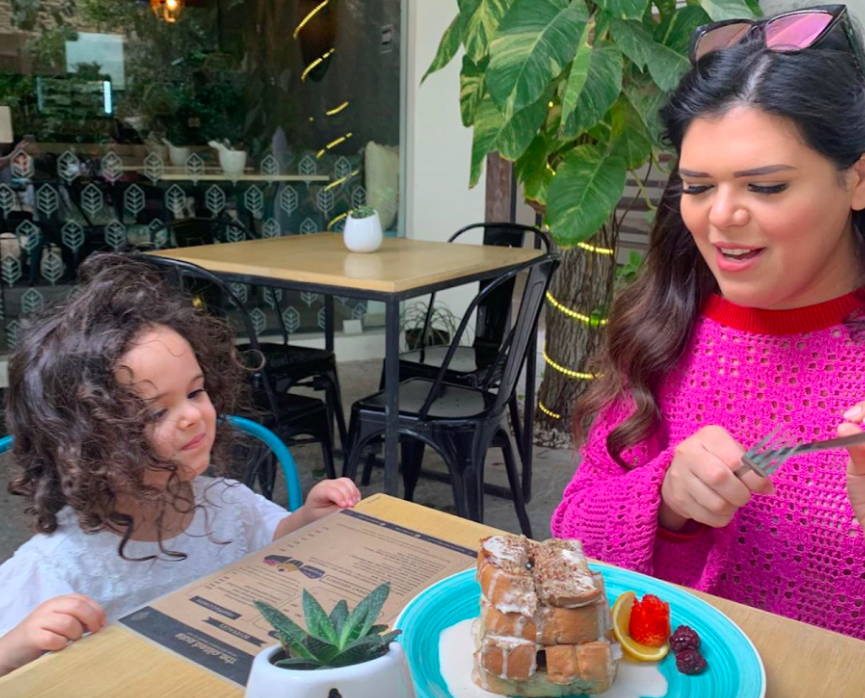 Photo Description: Jeanette PV. and her daughter enjoy vegan french toast together.

3) What has your relationship with Hispanic/Latin culture and veganism looked like? Are there any values that you've found difficult to align?
Fredy: Within Hispanic/Latin culture it doesn't seem like there's enough education on plant based diets. The culture has more of a farm based approach to it. The values are difficult because I do value the life of an animal and it's soul, yet the culture sees animals as pets and food.
Jeanette: Personally, my relationship with my culture has improved. I've veganized all my family's favorite recipes we grew up with. I spent two months in Mexico this past January and I saw an explosion of vegan options in local restaurants across cities spanning from Cancun to Tulum. It seems my people are quite receptive to vegan diets and have been very actively involved in learning and adopting this kinder way of eating and living.
Carina: In the beginning, I felt I wasn't Cuban enough. Always being la rara or la extraña in the family especially at parties or most restaurants because I wasn't able to eat the food really took a toll on me. Food is so important to our communities and is something that unites us, so not being able to partake in that obviously starts to make you feel lonely, different, and not part of the group.

4) For the men, have you seen the role of "machismo" affecting your decision to go vegan, and how you navigate the lifestyle? What advice do you have for other Hispanic/Latin men who are curious about going vegan?
Khaled: Honestly, not really. The machismo played a bigger role affecting my decision to come out as gay for sure, but not when I decided to go vegan. However, my most practical advice for other Hispanic/Latin men who are curious about veganism is inviting them to see for themselves how many vegan athletes and bodybuilders there are now and how the numbers keep increasing as we speak.
Jeanette: My advice to Hispanic/Latin men curious about going vegan would be to understand that they can have their cake and eat it too. All food can be veganized and there is absolutely no need to sacrifice taste. You can eat all the same foods but feel better both physically and spiritually. In my experience, most men are afraid of seeming weaker if they stop eating meat. However, the strongest mammals on the planet are vegan. I share that information with them and the fact that it takes an enormous amount of strength to stand up to outdated and cruel norms like eating meat and contributing to the suffering of animals.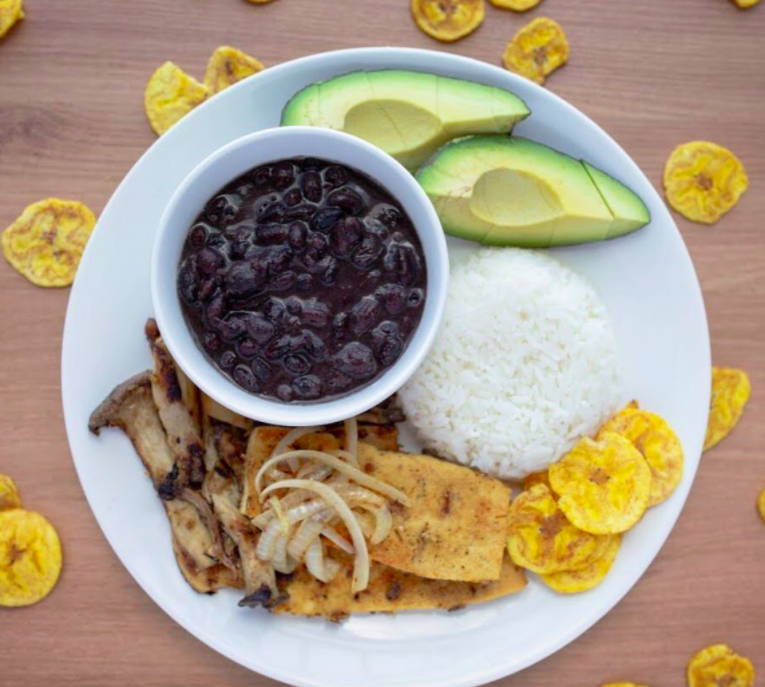 Photo description: Traditional Cuban dish of white rice, black beans, mojo marinated tofu and mushrooms by Carina @vegansazon.


5) Food is a significant part of Hispanic/Latin culture, what is one food that you miss the most, and one dish that you've been able to veganize?
Yvonne: I miss the texture and specific flavor from Pollo Guisado, but I've created a spectacular vegan version that created the essence that it was missing.
Carina: One thing I miss the most is being able to go to any Cuban restaurant or cafeteria and being able to order anything on the menu, but probably the one food I miss the most is helado mantecado, which is this amazing vanilla custard flavored Cuban ice cream. I've luckily been able to veganize almost every Cuban dish ever made! I'm so proud of that, which is why I share my recipes online so everyone can have access to them.
Tora: One food I miss the most is gazpacho and verdura bacalao guisado. Both these dishes include bacalao (dried codfish) and though I am so pleased that meat substitutes are on the rise, I will say that the taste of fish is incredibly difficult to replicate, especially cod. However, I've been able to veganize sooo many Spanish dishes! I make vegan empanadas, rellenos de papa, rice and beans with tostones on the side all the time. The possibilities are nearly endless.

6) Not being able to eat your abuela's sacred dish because it has meat or dairy in it can be tolling — both emotionally and socially. How have holidays and family gatherings been since going vegan?
Yvonne: This was hard at first both emotionally and socially. You feel like an outcast and alienated. It's funny how foods can bring people together or push them apart. Once our family embraced our change and made an effort to recreate many of the meals in a plant based way, these negative feelings greatly reduced. When your family/friends support you, you'll find the need to surround yourself with those people around the holidays (and in your day to day.)
Tora: It started out rough, mostly because my abuela often picks arguments with me about not being healthy enough. However, now my step mom makes me vegan rice and beans, mashed potatoes, and vegetables for the holidays. She even has made me vegan pasteles! If I'm going somewhere I don't think will have vegan options, I bring tupperware with some food I can eat. It insulted my grandparents at first, but now they understand.

7) What's one thing you want people to know about being Hispanic/Latinx and vegan?
Khaled: Honestly, it is not as difficult as it seems. In 2020, with all the available substitutes (and still the ones yet to come), you can veganize almost all traditional and non-traditional Hispanic/Latinx dishes. I try to be pragmatic and encourage people to at least be flexitarian or vegan-ish. Once they've made the first step, it's easier somewhere down the road to make the final step to veganism than to abruptly go vegan overnight. Some people can, some can't. It's not a race, and we certainly need more people doing veganism imperfectly than just a few doing it perfectly.
Tora: Though it can create tension between family members, going vegan does ultimately open a conversation surrounding animal rights and health. As long as you're creative, you won't be missing out on these traditional meals. Of course you'll have to tweak them and they may not taste exact, but this small alteration in the name of saving animal lives is well worth it!
We thank these creators for sharing their experiences, and their odes to not only a vegan lifestyle, but a dedication to cruelty-free products and practices.