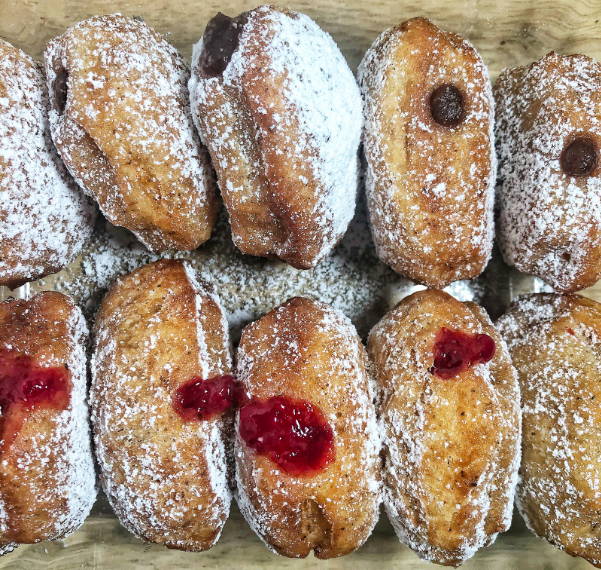 Sufganiyot, or filled-donuts, filled with red raspberry jelly or brown apple butter, dusted with powdered sugar.

One of my worries as I transitioned to veganism several years ago was that I would have to give up other parts of myself in order to maintain my veganism, and one of those parts of myself was my Jewish identity. What I learned is that you can veganize so many aspects of your life and that definitely includes Hanukkah! Whether you're throwing a Hanukkah party with friends, spending some quality time with your family, or keeping it low key by yourself, here are some of the ways you can veganize your Hanukkah celebrations…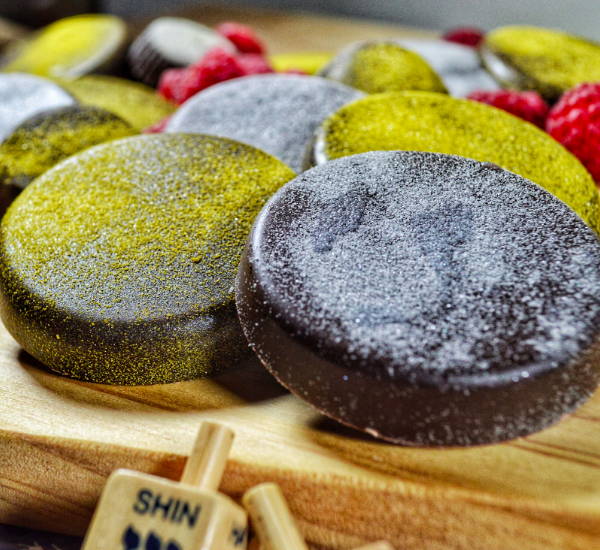 Thick, smooth chocolate coins sit on a wooden serving board, dusted with silver and gold glitter.

There's nothing better than when a game is built into a holiday! Dreidel can be a fun game to share with kids and the rules are easy enough to look up online and follow.

Try making your own homemade vegan gelt and using the pieces you made to play dreidel (if you can avoid eating them all before you finish the game!). Here's a simple gelt recipe:


Ingredients:1 cup semi-sweet chocolate chips (non-dairy)
Directions: Melt chocolate chips in the microwave in 15 second intervals until chocolate is smooth. Pipe or spoon into non-stick muffin trays until roughly a ¼ inch thick. Smooth out the chocolate, then place the trays in the freezer for 5-10 minutes until chocolate is hard. Flip trays over on a plate or wire rack to remove.
*If you don't have non-stick muffin trays, you can also line the trays with reusable cupcake liners, but the edges will have ridges.

Lighting the menorah is one of the most, if not the most, recognizable aspects of Hanukkah - so, of course, this centerpiece of your celebration should be vegan! Throughout the eight nights of Hanukkah, one menorah uses 44 candles. When veganizing your Hanukkah this year, look for soy-based candles instead of beeswax candles.
Another way to make your menorah more vegan and eco-friendly is by creating a menorah from reusable materials or reusing a menorah that's been passed down in your family instead of buying a new one, ultimately creating less waste.
One simple method is to collect eight similarly sized short jars and one taller jar, fill them with water, and then place soy-based tea candles in the water. You could even color the jars if you wanted!Lastly, if you're reciting the Hanukkah prayers as part of your menorah lighting, be sure to have a link to share with others so they can access the Hebrew or English transliteration virtually rather than printing out copies to save paper!

Gift giving is a tradition that many Jewish people and families incorporate into their Hanukkah celebrations. Whether you are giving gifts to other Jews as a part of a Hanukkah celebration, bringing a gift to the office white elephant exchange, or swapping presents with friends and family of other faiths, there are many ways to veganize your gift giving this Hanukkah!
One way is to buy vegan gifts! Gifting someone a cruelty-free handbag or belt, vegan lip balm to get them through the rest of the winter, or a new mushroom coffee to upgrade their morning routine will remind them that going vegan doesn't mean giving anything up. It can even mean trying new things (seriously, mushroom coffee - who knew!?).
The other way is to use reusable materials to wrap your gifts, like newspapers, old boxes, and fabric. Not only is this good for the planet, but it will give your gifts a unique look that wrapping paper just can't compete with!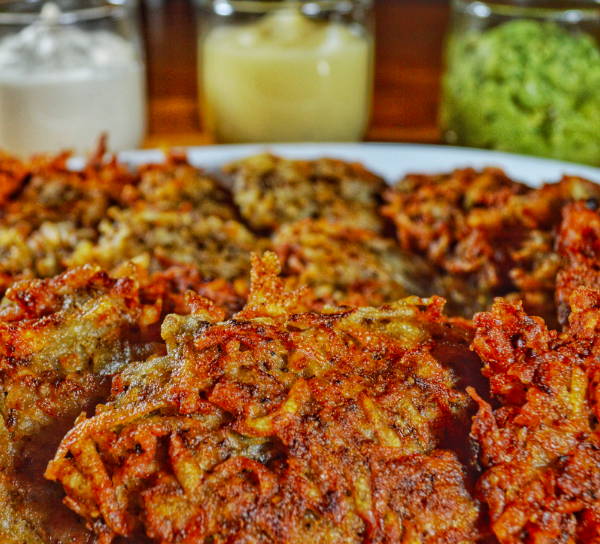 Crispy latkes, or potato pancakes, with sides of sour cream, applesauce, and guacamole.
Last, but certainly not least, is my favorite part of most holidays: the food! There are lots of different food options you can make for Hanukkah, but the main thing to know is that Hanukkah is centered around fried food. This goes back to the story of Hanukkah: the miracle of the oil lasting for eight days instead of one. Thus, we fry our food for Hanukkah!
That doesn't mean you have to fry your food for Hanukkah - you can also bake your latkes (potato pancakes) and sufganiyot (jelly-filled donuts). But Hanukkah only comes once a year, my motto is indulge in all the fried goodness!My two must-haves for Hanukkah are latkes and sufganiyot. You can find my recipe for sufganiyot on my Instagram. I'm also working on a latke recipe (so be on the lookout on my Instagram during the first few nights of Hanukkah), but for now you can check out this recipe.
I recommend setting up a topping bar with the works: vegan sour cream, applesauce, cookie butter, vegan pesto (I like the pesto from Trader Joe's!), guacamole, nacho cheese - anything your heart desires!If you have any leftovers, be sure to store them for noshing the rest of the eight nights of Hanukkah. Storing in airtight containers or covering with reusable silicone wrap is a great way to keep your leftovers fresh.

No matter who you usually celebrate with or how you usually do it, you can veganize your Hanukkah. Recreate your favorite traditions or start some new ones this year!

What is your favorite vegan recipe for the holiday season? Tell us in the comments!